Minute to Win It
Minute to Win It games are great for birthdays and sleepovers for boys and girls of any age or even as a family fun night at home.
There are so many ways to play the game and many challenges. Recently I did a Minute to Win It game for my teen Jade's birthday, so this post is going to be about what we did for her party. All chosen by Miss Jade herself, so I had the tick of Teen approval. The challenges we've chosen are all easy to find items around the home.
If you have more than 5 guests, you may choose to have teams. We had 13 guests for this party, so we chose to split the teams up into 3, with 4 guests in 2 teams and 5 in the other because we had an uneven number, we chose to do the doughnut challenge twice so that every team member gets a go but 2 players in 2 teams go twice. We used the following as the scoring method.
Scoring:   1st place = 3 points, 2nd place = 2 points, 3rd place = 1 point
Our challenges were as follows:
Doughnut Chew
Tie a string around a doughnut and hang it in-between two chairs, each team member uses only their mouths, to eat the entire doughnut without letting it fall off of the string.
Cookie Monster
Each team member, places a cookie on their forehead. You have to get the cookie from their forehead to their mouth without using their hands.
Balloon Challenge
Each team member, has a balloon and they have to keep it in the air with any body part but their hands.
Nose Feather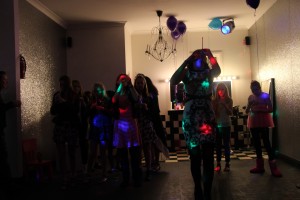 Each team member has a feather, they have to keep it on their nose the longest.
Skittle Challenge
 In this game, relay style, everyone was involved in this game, the kids had to use a straw, suck a skittle onto the bottom of the straw, race to the end of the room and put it in the bowl and race back to the next team member. If the skittle drops to the floor, they have to go to the back of the line and let the next player go, the team that has the most skittles after a minute wins.
Foil/Toilet Paper Runway Outfit
The teams had a minute to make a runway fashion outfit on 1 of their team members. The best outfit was the winner.
Commercial Skit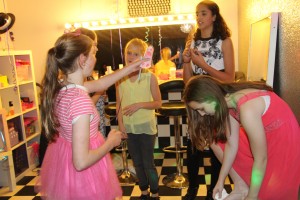 Each team chose an item in the room for the other team, so that each team had an item to make a commercial for. They had a minute to make the commercial. Then they had a minute to act it out to everyone. The best commercial won.
These games really kept all the girls entertained. With lots of laughs and giggles. Give it a try for your next party…….
And check out our photo's from this party on our FB page, it was a party with the works…. A Hummer ride, High tea, Purple runway carpet, Purple and Aqua themed lolly buffet, minute to win it games and a photo booth.