One of the most cost effective ways, to add life to your parties are Printables. Printables give that special personalized effect and can help set the theme and add decorative pieces to give that finishing touch. They can transform even a simple party into an event that looks magical, special and will long be remembered.
One of the common things I get told is that they find the process hard and confusing. So I've got some tips to help get you started.
Where to find printables:
You can find many free printables online, by typing your theme into the internet search, other places are:
Etsy.com – One of my favorite places to find many handmade items from designers all over the world. There are so many printables on here, you can pretty much find anything you are after. Whilst your online also check out Jennifer from Sweet Bootique, she has designed so many of our printables and is just adorable to work with. Her designs are amazing and she can custom make anything for you, be sure to visit her shop.
Pinterest – is another great resource. 
What are Printables?
A printable is a ready to print PDF file that can be downloaded for free or a small fee. The file can be printed instantly at home or with a professional print shop such as office works or an online printing serve.
Every printable is formatted to print on 8.5 inch x 11 inch/ a4 paper, they are fast and cost efficient and can be printed multiple times. You can purchase sets or individual items.
Printing, Cutting and Assembly
To get the best results out of your printables follow this guide of recommendations of papers to use:
Always print on a laser printer as ink printers tend to bleed making some designs and especially writing indistinct or illegible. Ink Jet printers will make the designs look "muddy" and lacking in definition and detract from that professional look that adds to the wow factor.
Bag Tags and Labels: You can either print these on sticky label sheets and stick straight onto bags or use either 100-200gsm paper
Cake Toppers, circles, bunting, food tents- 190-220 gsm paper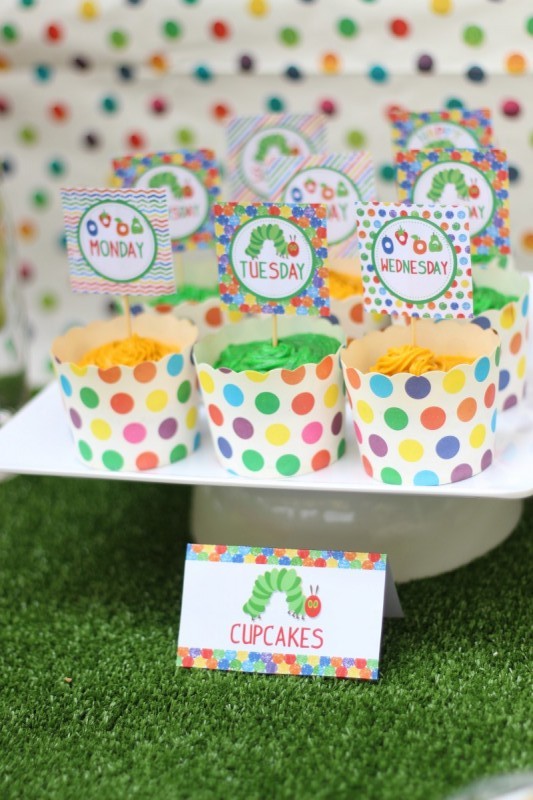 Invites: If you are wanting invites that can be folded print on 100gsm paper or for a post card style invite print on a thicker paper such as 160-220 gsm.
Boxes: that are going to hold any weight such as cupcake boxes or treat boxes should be printed on maximum weight card stock. Most printers can handle is 220-250 gsm.
Make sure you print on the same size paper as what the printable was designed on. Always print a sample page to test that it all fits in, adjust printer settings if needed such as 'print at 100%' or as too fit 'page' until it fits right. You can always ask the person you are buying printables from what setting to use if they don't specify one. This is important when printing items like boxes or bag toppers that require specific sizes as choosing the wrong setting can make them too large or too small.
You can always adjust the color saturation if the color looks dull, use options such as saturation brightness or contrast setting in printer settings.
The most effective and time saving way of cutting your printables, is to invest in a good guillotine and 2 inch whole puncher other wise use a large sharp pair of scissors or a craft knife.
Always use craft glue or tape that will not lose their stickiness when exposed to heat or damp. PVA glue or regular sticky tape are great options. To prevent waiting for glue to dry you can apply the PVA and then hold together with sticky tape or a paper clip until dry. Be careful using things such as double sided scrapbooking tape as even the permanent ones seems to come undone.
Uses of Printables
Centerpieces: can be stuck to skewers or straws, or other great centre pieces can be doilies, paper fans, pinwheels, cardboard circles then sick circle printable in the centre and put in a decorated box or plant pot.
Cake Toppers: Stick to a cake pop stick or tooth pick using tape or craft glue.
Swing Tag: punch a hole and tie on take home boxes or bags.
Party Bags: Stick on the front of your box or bag, or layer with other decorative pieces such as ribbons, doilies or cardboard colors.
Party Boxes: Complete little themed boxes with a design all around. Such as little doctor bags filled with treats from a doctor party for example.
Food Tents: Themed little signs to let your guests know what they are eating, can also serve as bag toppers.
Cupcake, cake pop or cake slice boxes: As well as providing amazing presentation, these are great if you decide to send the cake home to "show off" to mum and dad, like for a cupcake decorating party for instance.
Cupcake wrappers and toppers: a low cost option to dressing up simple iced cupcakes.
Games: Games such as Bingo, treasure/scavenger hunts or fairy wands can help keep your little guests entertained.
Cutlery Wraps: These really add a lovely look to your assembled party table as well as keeping guest's cutlery and napkin in a handy bundle.
Photo Booth Printables: These can be a pirate hat for a pirate party complete with eye patch or super hero masks or a tiara and they can add a festive feel. Even more awesome if you can supply inexpensive disposable cameras so the kids snap their own pictures.
Candy Jar labels: Hang ribbon around the jar and glue label on top or make a tent out of card and stick on label. Some labels are editable to type your text in whilst others will be blank for you to write on.
Chocolate Bar Labels: we like to use the Choceur Mini Chocolate bars in the packs of 5 from ALDI, you unwrap the paper to the foil wrapping, then wrap your chocolate bar label around that.
Water Bottles: I tend to use the small Aldi water bottles unless the label requires a bigger size, then I take the label off and tape my printable around it.
Bunting: Bunting can look great across your candy buffet, table backdrop, around the room or doorways. A good size is 2 flags to a page, if it is bigger, you can make it smaller by printing 2 to a page. I like to laminate my bunting but it's not essential. Another option for bunting is to buy bunting flags from a $2 shop or Kmart, and stick a 2 inch circle on each bunting.
Signage: you can print welcome signs in A3 poster size, and place in a frame at the entrance or even a4 size and make a cardboard backing to frame. Mini signs are also great to fit inside smaller standing frames, and are great to put in areas such as present table, thank you take home table, or even to have annotations from the theme to help set the scene.
Invitations: These can be custom made with your child's photo or left plain. You can either print on photo paper or print on plain paper and stick on cardboard.
At Polka Dot, we can organize to bring your vision to life and get something designed for you from Jennifer Donegan from Sweet Bootique. Otherwise you can source from the places I mentioned.
Polka Dot also offer a cut, paste and assemble service of any printables of your choice, taking all the hard work out of it for you. Please enquire if this is something you are after.
Jen from Sweetbootique has designed a Tiffany & Co. mini printable set for your next teen, tween or adult party. Just click on our subscribe page to receive this awesome set. Jen has the remaining items to complete the set available for purchase in her shop. Be sure to visit her here for that and many are party printables:
Subscribe to our newsletter and get your own Tiffany Printables Set