12 Ideas for an Awesome Unicorn Party
Unicorn parties are all the rage right now and we are starting to get many requests for parties in and out of our venue. The picture below is from one of our most recent Unicorn parties we had in the venue.
To help you plan your next Unicorn party check out our list of ideas to help you create an awesome party that the kids will remember for a lifetime.
1. Unicorn Bark: A pretty addition on your sweets table or included in your party bags
2. Unicorn Photo Backdrop: Cheap and easy to do, most of these items in the picture can be found at K-mart to make your very own photo backdrop. Add some photo props for some extra fun. I've added a link below to purchase some Unicorn props or search Ebay or Etsy.
3. Unicorn Sundaes: A yummy dessert for the kids to enjoy. You could even go the extra step and have an ice cream station where the kids put their own toppings on.
4. Pin The Horn of the Unicorn: A take on the classic "Pin the Tail" on the donkey game.
5. Unicorn Cupcakes: these simple but effective cupcakes would be a great addition to the party. It could even be made into a Unicorn cupcake decorating activity for the kiddies.
6. Unicorn Bracelet: Craft activity for the kids. Set up a table and get the kids to make their own rainbow bracelets and check ebay for some cute Unicorn charms to hang on it.
7. Unicorn Masks: Craft activity for the kids. Set up a table and let the kids decorate their own masks. The link on here has a free printable to use.
8. DIY Unicorn Costume: A cute party costume to make for the birthday girl to be the star of her own party.
9. Unicorn Poop Slime: A cute party favour idea for the kiddies to take home.
10. Unicorn Smash Cake: Contact us or Anthea from Naughty Nush cakes and we can organize this smash cake for your next party.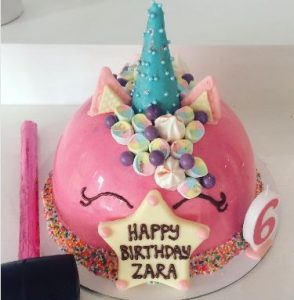 11. DIY Unicorn Party boxes: Make these party boxes for the kiddies to take their treats home in.
12. Unicorn Party Table: For some great inspiration check out this party table.
To create a gorgeous Unicorn party table, check out our Fairy Hire Theme Kit that could be adjusted and made into a gorgeous table for your next party. Click on the link to view the whole kit and inclusions.
Polkadot Unicorn Hire Kit if you are on your mobile and this link isn't working you can go to our Facebook page, then go to our albums and click on our "Fairy Princess Party Theme Kit" album.
I hope this give you some ideas to create your very own Unicorn party. If you are looking for some extra help, we can create a beautiful Unicorn party for your next celebration.
At Polka Dot Entertainment, we create "A party like no other" We are event and party planners with over 15 years experience, we love to share our knowledge and expertise to help you create your very own gorgeous and memorable party so watch out for our blogs and tips on Facebook.
If you need some extra help to creating the party of your (or your child's) dreams, Polka Dot Entertainment also provide lots of hire items, themed party kits where we come and set up and pack up a complete party for you, custom themed parties, travelling entertainers, cakes or even a complete party planned from start to finish.